Hiring the right person for a leadership role is crucial for any organization's success. However, identifying the right leadership skills can be daunting, especially considering the candidate's cultural fit.  
That's where the Orxestra® Method comes in.  
Developed by Dr. John O. Burdett, a prominent global authority on leadership and organization development, and launched by TRANSEARCH, it provides a unique approach to evaluating candidates and their fit with your organization.  
Let's dive into how the Orxestra® Method can help you effectively identify the right leadership skills for any role. 
The Orxestra® Method
The Orxestra® Method uses a series of flashcards to construct an idealized scorecard for each candidate. The flashcards assess various aspects of your organization's DNA, including culture, performance, leadership, and team fit.  
Using this card-sort methodology, our teams can evaluate candidates in a way that considers your organization's personality, making it easier to identify the right leadership skills. This has resulted in better shortlists, more engaged candidates, stronger interview chemistry, and seamless onboarding. 
Benefits
The Orxestra® Method provides a unique perspective on evaluating leadership skills and greatly reduces the risk of a miss-hire. Candidates identified through this methodology tend to have longer and more successful careers than those hired through a traditional process. By calibrating fit, we ensure the candidate's leadership skills align with your organization's goals and values. 
This method also helps identify any gaps in your organization's leadership skills. By identifying these gaps, you can make informed decisions about developing your current team members or hiring candidates with the necessary skills. This, in turn, helps create a balanced and effective leadership team. 
Another benefit of the Orxestra® Method is the seamless integration of new leaders into your organization. With a clear understanding of your organization's culture and values, new leaders can easily and quickly assimilate into their roles. This leads to higher employee engagement and retention rates. 
How It Works
We reach beyond our competitors by reducing risk and maximizing 'fit' via our unique Orxestra® methodology. The COLORS denote our unique Orxestra® advantage.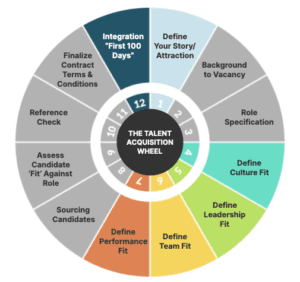 Identifying the right leadership skills is crucial for the success of any organization. The Orxestra® Method offers a unique approach to evaluating candidates, taking into account your organization's personality and culture fit.  
This methodology can greatly reduce the risk of a miss-hire, identify gaps in your leadership team, and seamlessly integrate new leaders. Overall, the Orxestra® Method provides a more effective and efficient way to identify the right leadership skills for any role.